Season of Giving Fundraiser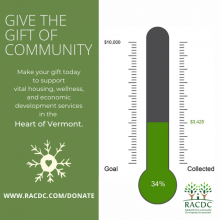 We're kicking off our Season of Giving fundraiser and need your support! We have an ambitious goal to raise $10,000 by the end of the year, but we know we can make it together. When you make a tax-deductible donation to RACDC, you're supporting:
> Vital affordable housing services that create safety and stability for hundreds of individuals and families
> Wellness support services for seniors in our community
> Economic development opportunities, including small business loans and tax credit support, for independently owned retailers and service providers
> Community connections and solidarity through partnerships like the Randolph Area Mutual Aid Network (RAMAN)
All donors of RACDC are welcomed as members to the organization, meaning you have a say in the direction of the organization and our ongoing programming.
Make your donation to our Annual Campaign today, and please share widely! Donate: www.racdc.com/donate