RACDC Staff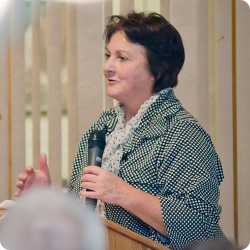 Julie Iffland
Executive Director
802-728-4305 ext. 1000
Julie Iffland is the Executive Director of RACDC. She came to RACDC in 2007 after a 19-year history in conservation real estate, in which she was responsible for negotiation, fundraising, and project management of large community conservation and historic preservation initiatives, first as the Program Coordinator of the State of Connecticut's open space program, and later as the head of the Connecticut office and the Vermont and New Hampshire programs of the Trust for Public Land, a national nonprofit organization. Julie holds a Master's Degree in Public Administration from the University of Hartford and a B.A. degree from Yale University, where her studies focused on music, history and sociology. While at Yale, Julie and 6 fellow senior women co-founded the first female counterpart to the Whiffenpoofs, an all-senior women's a cappella group they named Whim n' Rhythm, which has since established itself internationally. Julie served as Chairperson of Randolph's Planning Commission for six years and was a founding member of the Randolph Economic Development Council. She recently completed her second term on the Housing Advisory Council of the Federal Home Loan Bank of Boston, as well as the Boards of the Vermont Community Development Association and Stagecoach Transportation System, Inc. She now serves on the Board of the Orange County Special Investigative Unit/Child Advocacy Center. Julie and her partner, Christopher Recchia, run a small diversified organic farm in Randolph, VT.
Nathan Johnston
Information Technology
(802) 728-4305 ext. 1004
Nathan Johnston is the Information Technology support at RACDC. His primary roles at RACDC include managing several websites, graphic design, systems analysis, and community development. Prior to RACDC, Nathan was an IT support for public school systems in Illinois for 10 years. Nathan is from Illinois but currently lives in Randolph. Nathan's hobbies include photography and being outdoors.